Today RIM announced two new BlackBerry QWERTY bars to join the Bold lineup - Touch 9900 and Touch 9930. Both smartphones feature 2.8-inch VGA touchscreens and run on the newly announced BlackBerry OS 7.
BlackBerry Bold Touch 9900 (previously known as Dakota/Magnum) is a GSM device with a quad-band GSM and tri-band HSPA+ support (up to 14.4Mbps HSDPA). The Bold Touch 9930 (previously known as Montana) is a dual-band CDMA phone with support for quad-band GSM and dual-band HSPA+ global roaming.
Now that we've made clear the specs. Both phones are virtually the same inside and outside. They are powered by a 1.2GHz processor and 768MB RAM. According to some previous information the chipset we are talking about should be the Snapdragon MSM8255(GSM)/MSM8655(CDMA) with a Scorpion CPU and Adreno 205 GPU. But we guess we'll have to wait and see if that's accurate.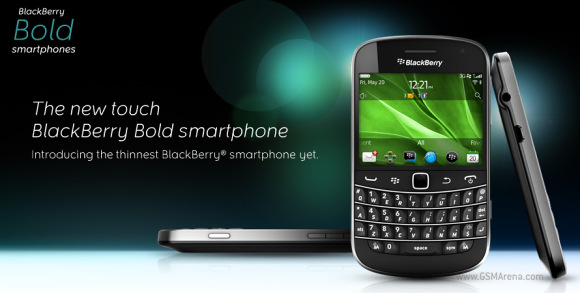 BlackBerry Bold Touch 9900/9930

The Bold Touch duo has 2.8-inch capacitive touchscreens with VGA resolution (that's 287 ppi density), slightly redesigned QWERTY keyboards, 5 megapixel camera with 720p video recording, 8GB internal storage and microSD card slot.
The connectivity package is impressive alright - there is dual-band Wi-Fi - 802.11 b/g/n at 2.4 GHz and 802.11 a/n at 5 GHz, NFC support, GPS with A-GPS and Bluetooth.
Both Bold Touches are 10.5mm slim and run on the newly announced BlackBerry OS 7 - it separates personal from corporate data, comes with an upgraded browser and HTML5 video support. We've already covered that here.
BlackBerry Bold Touch 9900 and 9930 will become available this summer, but there is no info on the pricing yet.